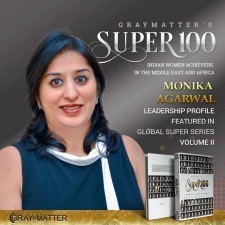 A passionate creative entrepreneur at heart and a focused task person at work, Monika has had a successful track record with over 20 years of experience in the design industry and received many praises for her work. Monika's impressive portfolio includes diversified projects from The Royal Family, Hotels, Developers, Retailers, Corporate and Individual Clients. Monika graduated in Arts Interior Design and continues to pursue educational and current courses in project management, advanced ID and entrepreneurship. Monika takes care of multiple roles covering including Concepts, Project management and PR at Artin.
In her other roles, Monika works for women empowerment and community development. She was a key speaker and a panelist at the Center for Economic & Leadership Development,Nigeria's Forum on African Middle East Asian Women held in Atlantis and Jumeirah Hotel in 2013 and 2014. Her outstanding work has been featured in important media such as Property Weekly, Gulf News Tabloid etc.She is selected for Super 100 Indian women achievers in Middle East & Africa in 2016.
Ms. Agarwal's derives motivation from every aspect of life. In 2015, she formed a strategic partnership with Sandra Costa and the USA Design Group. The Global companies came together to expand innovative and cutting edge interior design including master planning, entertainment facilities, high end residential, hospitality and smart technology.